Is there such a thing as Aging Well ?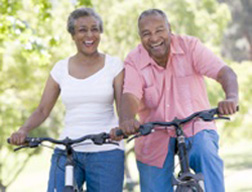 Traditional Geriatric Medicine commonly relies on bone density as the key measure of safety, health and well- being
.... this approach misses other key barriers to function and safety
Functional Challenges for Successful Aging
Fear of Falls and injury
Medication adherence
Weak musculature
Gait impairments
Disease awareness and acceptance
Lifestyle awareness and need for adaptations
Changing nature of relationships and social networks
Falls that result in injury and a cascade of declining health and well-being
Traditional Medical Management of Barriers
Bone density and independent risk factors such as oral steroid use, prior vertebral fracture, difficulty standing up and parental history of hip fracture contribute to fracture risk
Leading bone health treatments such as bisphosphonates reduce fracture risk between 40-70% (assuming that patients are compliant with medications as they typically are in clinical trials) and can take up to 3 years to have fracture risk protection
Fracture risk scores, such as FRAX, address clinical risk factors including BMD, but cannot be used with patients already under treatment with bone medication.
The above assessment and management strategies do not address spine loading, spinal curvature, and falling which are critical factors in understanding fracture risk.
Why Preventing Falls Saves Lives
Simply being over the age of 65 raises fracture risk
About one-third of people aged 65 or over fall at least once a year.
Balance control is more impaired in patients with osteoporosis
Fear of falling can lead to a fear of engaging in normal daily activities
What if there was a new way to address the barriers to Aging Well?..............